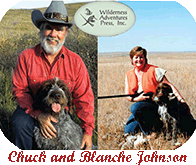 Publishers of the Best Fly-Fishing, River Map, Wingshooting, Dog Training, and Big Game Hunting Guide books in America
New Books Available Now!

FREE shipping on orders over $25!

E-BOOKS NOW AVAILABLE!

Click here for our titles as Kindle Editions!

Click here to buy eBooks for all other devices: iPad, iPhone, Android phones, PCs and Macs!

Check out our newest title, Trout Adventures North America!

Available Now!

Trout Adventures North America

Author Bob Willis has documented decades of flyfishing for every salmonid species in North America in this intriguing new book. Willis' insatiable appetite for adventure keeps every trip interesting, down craggy dirt roads miles from anywhere.

The author catches over 25 species and subspecies, including Apache & gila trout, arctic char, blueback trout, brooks, browns (landlocked and sea-run), bulls, aurora trout, Dollies, lakers, splake, steelhead, goldens, cutthroat (all subspecies), cuttbows, tigers, grayling, sunapee (they do exist), redband, whitefish and more. Every corner of North America is fished, from Iceland (part of it is considered North America) to Alaska and all fishy spots in between.

Willis' personal writing style seeks to bring readers with him on each journey, waiting out cattle drives, changing flat tires, hooking surprise rod-bending fish, and up sheer mountainsides continent-wide.

Detailed trip information is included at the end of each chapter to help you plan your trip. Whether you want to fish for the rare and common salmonids of North America or you enjoy a good flyfishing adventure, this is an exciting read and book.

$24.95

214 pages / 50-plus color+b&w photos

Click here to order your copy!

Chuck Johnson's Collection of Rare Wingshooting Books For Sale (partial listing)

Chuck Johnson's Collection of Rare Big Game Hunting Books For Sale

Click here to e-mail or call 866-400-2012 to get us your physical address and we'll send you the printed catalog of either collection

Click here to e-mail or call 866-400-2012 to get us your physical address and we'll send you printed catalog of the collection

I am offering my collection of over 250 big game hunting books for sale. I have built this collection over a period of 40 years. Today it would take a number of years and a great deal of money to acquire these books. The collection includes African, Asian, European, and North American hunting and gun books, dated from the 1800s to early 21st century. There are many limited editions and many signed and inscribed copies.

The books include those by Selous, Teddy Roosevelt, Jack O'Connor, Robert Ruark, Townsend Whelan, and many other authors. The publishers include Derrydale Press, Amwell Press, the first five books of the Boone & Crockett Club, Trophy Room Books, Roland Ward, and others.

Three subject sorts: | Africa, Asia, Europe | Americas | Boone & Crockett |

You can see the catalog and order online, or you can order a printed catalog.

Order on line with a credit card, or call and order with a credit card or check.

Shipping: All book orders of $50.00 or less will be shipped media mail for a flat charge of $5.00. All orders of more than $50.00 will be shipped either UPS ground or FedEx ground with a signature required. You will be billed the shipping costs.

This fall I will be offering my collection of wingshooting books − upland, waterfowl, and hunting dog books. This is a collection of over 500 rare books. I will have an online and printed catalog available September, 2012.

Payment and Shipping Information

Because of the unique nature of rare and used books, the shipping charges that appear if you are ordering directly from the website are not the charges that are applied to shipping these books. Therefore, if you order through this website, we will call you to reconfirm the actual shipping charges and to reconfirm your credit card for these extra charges.

Payment: We accept Visa, MasterCard, and American Express. We also accept checks. If mailing a check, we advise you to call in advance to reserve the book(s). We will hold them for you for one week to allow your check to arrive.

Shipping Charges for Books from Chuck's Book Collection:

Cost for first book: $10.00
Cost for second book: $5.00
Cost for additional books: $3.00 per book

Make checks payable to: Wilderness Adventures Press, Inc.
Mail orders and checks to: 45 Buckskin Rd. Belgrade, MT 59714

When mailing orders, be sure to include title and book number (BG 25, BG105, etc.)

Books will be shipped via FedEx or UPS, signature required – no PO boxes.

Phone: 866-400-2012 – Ext 12 or 14

Please call between the hours of 9:00am and 3:30pm Mountain Time

--------------------------------------------------------------------------

Check out our newest title, the Flyfishers Guide to Western Washington Lakes!

Available Now!

Flyfishers Guide to Western Washington Lakes

The Flyfisher's Guide to Washington's Lakes covers the fabled lakes of the Evergreen State like never before. Local legend "Uncle Wes" Malmberg guides anglers through the best and most consistent trout lakes, including depths, trolling routes, trolling tactics, fly lines, flies, and fish-holding areas on each water.

Malmberg knows these lakes like the back of his hand, and has consistently caught more and bigger fish than other anglers using his perfected techniques. Reading this book will put more rainbow, brown and cutthroat trout on your line when fishing these lakes.

Dozens of detailed maps show depths, access points, bays, and all other pertinent information. Also included are stocking records, directions to each fishery, fish species descriptions, and information regarding sporting goods stores, fly shops, accommodations, restaurants, and all the other information needed to plan your trip.

Understanding and utilizing the tactics in this book will help anglers catch more fish in Washington's lakes.

Click here to order your copy!

Flyfishers Guide to the New England Coast: Rhode Island, Massachusetts, New Hampshire, Maine

The Flyfisher's Guide to the New England Coast: Rhode Island, Massachusetts, New Hampshire, and Maine is the most comprehensive guide ever written on the innumerable fishing opportunities in this beautiful area of the country.

Nationally known writer and angler Tom Keer guides the reader along the entire coastline, including all bays, coves, jetties, tributaries, peninsulas and islands. Every nook and cranny is covered.

Keer covers the seasons, fish species, light tackle, flies, boats, tactics, forage fish and includes a smattering of the history. Few know the ins and outs of this water better, and even fewer can put it on paper as eloquently as Keer.

Dozens of maps detail every access point, boat launch, water feature and depth, giving rookie and veteran anglers alike all the information required to have the times of their lives hammering the big fish available in these waters.

From stripers to sharks and everything in between, this is the must-read guide for fishing the coast, from Rhode Island to Maine.




Signed copies available now!




Flyfishing Adventures Montana!

OK, you have fished the fabled blue-ribbon waters in Montana – the Madison, Missouri, Bighorn and others. Great fishing, and, unfortunately, great crowds.

Our new series, Flyfishing Adventures, introduces you to the little-known gems. Great fishing waters without the crowds. The first book in the series features 21 of these waters in Montana.

John Holt has been fishing these waters for years. He takes you with him as he probes the Clarks Fork of the Yellowstone in eastern Montana for healthy browns and rainbows, the Marias River for its long, carnivorous brown trout, the lakes of the Bear Paw Mountains for brookies and bass, the Poplar River for giant northern pike and many other great waters.

John likes to explore and spend time in the remote parts of Big Sky Country where there are no crowds, the folks are friendly, the scenery is stunning and the fishing is superb.

Join Holt as he fishes these waters and gives you inside info on special flies for each water, along with tying instructions, great places to stay and where to get a great burger or steak.

This is the first book in our Flyfishing Adventures series.

Click here to order your autographed copy!

Click here to read a review from the Montana Sporting Journal:

Available now - over 70 detailed river maps!

An essential tool for a successful flyfishing trip is a detailed map of the water. One that will give you the access points, boat launches, campgrounds, public areas, roads, and GPS coordinates to pinpoint your location.

Wilderness Adventures Press has designed detailed river maps to fit your need. Our maps are tri-fold and fold out to 11X17 inches.

Click here to see our full selection of 11x17 river maps and our Best Fishing Waters map books featuring dozens of river maps for under $30.

Each map features:

Full color 11 x 17 inch river map
Description of the water
GPS coordinates for all access points
Access points & boat ramps
River miles
Rapids
Campgrounds
Public land, both state and federal
Roads
USGS land data
Hatch chart
Recommended flies

These maps fold up to 5-7/8 by 11 inches. They will fit in your vest or the side pocket of your car.

Our price is $9.95 each






And do not forget about our Best Fishing Waters mapbooks!

Each book features dozens of full-color 8.5x11-inch maps that give high-detail of all the states important fisheries. Each water features all the access points, put-ins and take-outs, campgrounds, access roads, nearby towns, helpful tips, GPS coordinates for all the important points and more! Click here to order!




Your IP Address is: 54.224.75.101